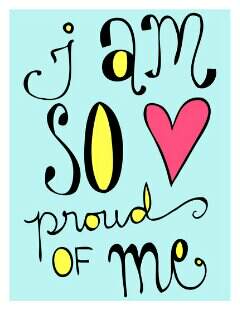 Like most people these days I spend time on social media, AND, inevitably someone I am friends with posts a pic of their body. Are they showing off, rubbing it in, gloating for scoring in the genetic lottery or proud of their achievement and I'm just a cynical bitch? Some have lost weight, or put on some muscle, had a makeover or some surgery but the effect is always the same in my mind, I feel irritated. For me this constant stream is just reinforcing the cultural norm that we need to have a certain type of body in order to be 'allowed' to display it in pictures all over the internet. Most of these people are quite lovely in person but something about their post still screams of moral superiority, of look at me, I'm so GOOD. Quite often these pics accompany a post to sell their book, program, blog or service.
So, it got me thinking perhaps we need to redefine what being proud of ourselves should be about. I mean really, we should be proud of ourselves and be able to express that but in far broader way beyond what our culture narrowly classifies to be 'important' by only how we look.
So what exactly is pride? Is it the same thing as confidence? We hear these terms along with self love, self esteem, pride goeth before the fall, pride is bad, self confidence is good etc. But what does this mean? While, I'm not a psychologist or a researcher in this area but I do have an interest in relation to body image. I do know from that perspective that shame is felt deeply and affects our health and choices (this is my area of interest). One explanation is that self confidence and pride are two sides of the same coin. It's difficult to feel proud with having confidence just as it's impossible to be confident without feeling proud.
Angela Brown writes "Being proud of yourself is also known as having strong self-esteem. People who are proud of themselves tend to have passions in life, feel content and set good examples for others. "We need to help foster the development of people who have healthy or authentic self-esteem because they trust their own being to be life affirming, constructive, responsible and trustworthy," says Robert Reasoner, president of the International Council for Self-Esteem. Being proud of yourself requires envisioning the person you would like to become and making your best efforts to grow as an individual."
So in that sense, people sharing pics of their appearance focused achievements could make sense? And who am I to rain on their parade?
Perhaps though, it comes down to the difference between confidence and arrogance? The actual intent of the person. Does their 'confidence' affect others positively or negatively? Would a arrogant person not care about how their message is recieved with their intent to give them a sense of superiority? Would a confident person believe that they are inspiring and motivating others?
As I am wriitng I am thinking about this from a personal perspective, I was all gung-ho ready to share the things I am proud of myself for. Now I am reflecting on what will be the consequence of what I write, how will people interpret that, will it seem boastful or pathetic? But mostly will my pride make another feel inadequate in any way. The truth is I do not know.
What I do know is that we all deserve to feel special, amazing and proud. Our results should not be measured against anothers and certainly not by the messages from marketers and advertisers. I would just love to see more posts about the deeper stuff that we should be proud of, the stuff beyond the superficial outer layer.
So here's a few things I am proud of in no particular order. I am proud I questioned my ability and in the process realised that I was smart enough to graduate university. I am proud I took risks by travelling, buying property, selling property, starting businesses and failing businesses, loving and losing beautiful people in my life. And that importantly I have taken those lessons and been able to apply them in my life and use them to be a more compassionate person. I am proud of being accepted into the dietetic masters program, of being accepted as a volunteer at the winter olympics, of getting into award school. I proud that I give things a go and persist to get where I am today. I am proud I've set up my own business. I am proud of my friends and the things they accomplish.
SHARE: What are you proud of?
Kx
Tweet